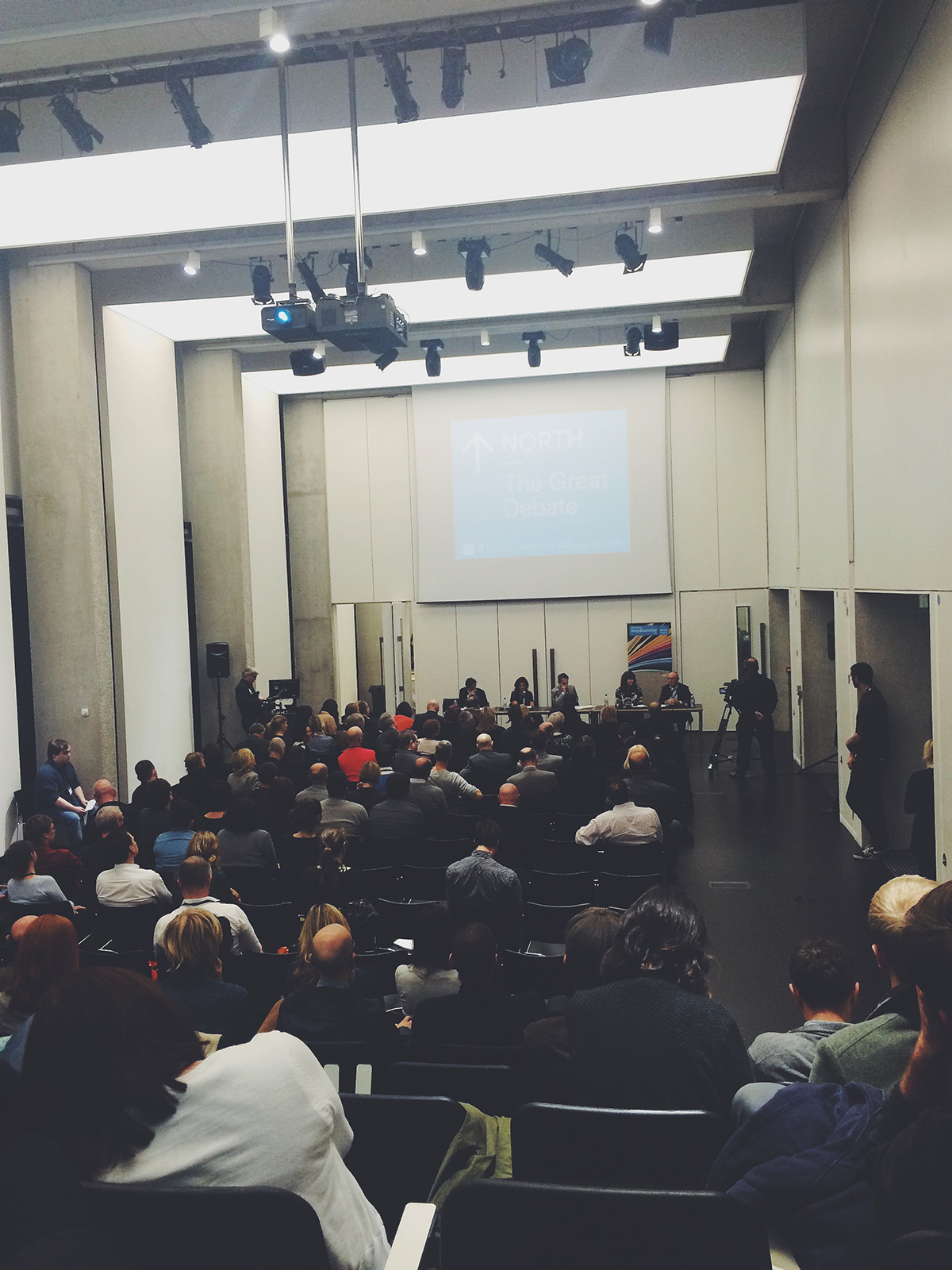 Wednesday 29 October
Manchester School of Art
Benzie Building, Higher Ormond Street, Manchester M15 6BR
Last night I attended, "North: The Great debate", a discussion between prominent members of the Manchester and UK creative industries as part of the Design Manchester festival at the Stirling Prize shortlisted Benzie building. The debate was chaired by Robert Yates, Assistant Editor of The Observer, with a panel including Sir Richard Leese, the Leader of Manchester City Council; Lou Cordwell, founder and CEO of Magnetic North; Professor David Crow, the Dean and Pro Vice Chancellor of Manchester School of Art; and Caroline Norbury, the CEO of Creative England
It was billed as "Growing by Design: the role of the creative industries in building a northern powerhouse" taking place against the backdrop of a seemingly unstoppable movement towards more devolution between the cities and regions, with the recent publication of One North and the plan by the leaders of Liverpool, Leeds, Manchester, Newcastle and Sheffield; Design Manchester's Great Debate looked at how the creative industries can stimulate and create a prosperous and successful northern economy.
There was strong discussion with several outspoken members of the audience being vocal in their opinions and whilst others had travelled from across the country to participate. The one area the debate was let down for me was the lack of an opposing voice in the panel with the members being predominantly Manchester based/focused. Although I suppose that is to be expected of a discussion happening in Manchester, with the main topic of conversation being Manchester.
'The cities of the North must have control of their own destinies' - @SirRichardLeese  #northdebate
A recurrent theme was Manchester and its own (and often lack of a) narrative compared with other major hubs such as London. Personally I think Manchester has a pretty strong identity, and although creatively its reputation isn't as strong globally as London, it however shouldn't being trying to replicate that and instead play to its own strengths. Not that any of that really matters, for me if those in power want to turn 'The North' or Manchester into a globally renowned centre for the creative arts, its not about how to PR the region but rather to create a climate in which creative business want to setup in Manchester and can then operate successfully. This means having great infrastructure and office space at affordable rates to entice more business in, which then in turn creates more jobs and demand for talented individuals.
Further reading: Read Robert Yates' article in The Observer.
Sponsored by Images&Co
Event partner: Manchester School of Art
Supported by APDIG (All-Party Parliamentary Design and Innovation Group) and Shoosmiths.