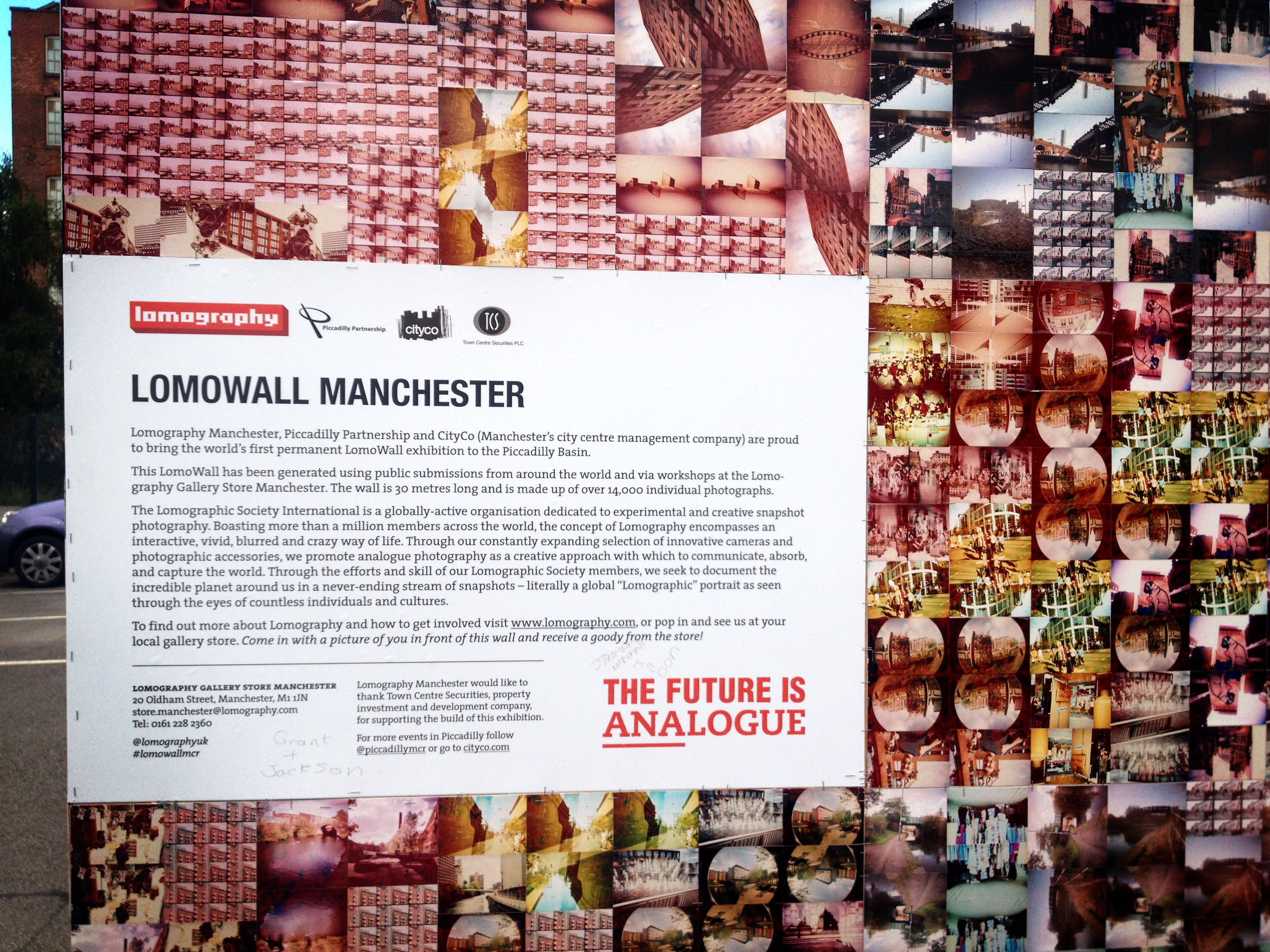 Over the weekend I happened to wander past the recently installed Manchester LomoWall. I'd been meaning to have a look for a while after submitting some shots a few months ago, and being unable to make the launch party.
I was secretly hoping that I'd been able to sneak a few shots in (as they needed 14000!), but I wasn't holding my breath.  Slowly moving up and down the wall, I was delighted to find 8 or 9 of my own photographs featured and with each one being used multiple times too. Here are some snaps from my iPhone.
Check out the making of videos.
Billed as the "World's first permanent LomoWall," the Lomographic Society's LomoWall Manchester was unveiled yesterday on Tariff Street. Now open to the public, the LomoWall Manchester is a 30m x 3m long artwork containing 14,000 individual "lomographs." Alexandra King, Piccadilly Partnership Director said: "This is a new landmark on the Northern Quarter landscape, here in the heart of the Piccadilly Basin.  The LomoWall adds to the street art scene in this part of the city centre and will become a visitor attraction in its own right. We are very proud to host it and to have the world's first permanent LomoWall is a real honour. It's a welcome addition to the urban landscape." Lomography Press Release
David Tester of Lomography Manchester said, "The theme of water was chosen as it fits in well with the 2012 Canal Festival and also as it reflects the surrounding area of the wall. The photos were generated via our online community and through workshops taking place at Lomography Gallery Store Manchester. Every photo that has been used has been taken in and around Manchester.  We had a great response, as always, from our community".
I was however disappointed to notice that the wall had already been vandalised in places, with a section of photographs being torn down and another area being graffitti'd.
If you want to go and have a look, free parking is available at the nearby Urban Exchange (Aldi, Go Outdoors, etc) retail development off Great Ancoats Street, or for more information on Lomography visit http://www.lomography.com or check out shop at 20 Oldham Street.
http://www.lomography.com/homes/bentopliss
http://www.lomography.com/magazine/news/2012/07/20/is-your-photo-becoming-a-p...
http://www.lomography.com/magazine/news/2012/08/02/lomowall-manchester-launch...
http://microsites.lomography.com/stores/gallery-stores/manchester