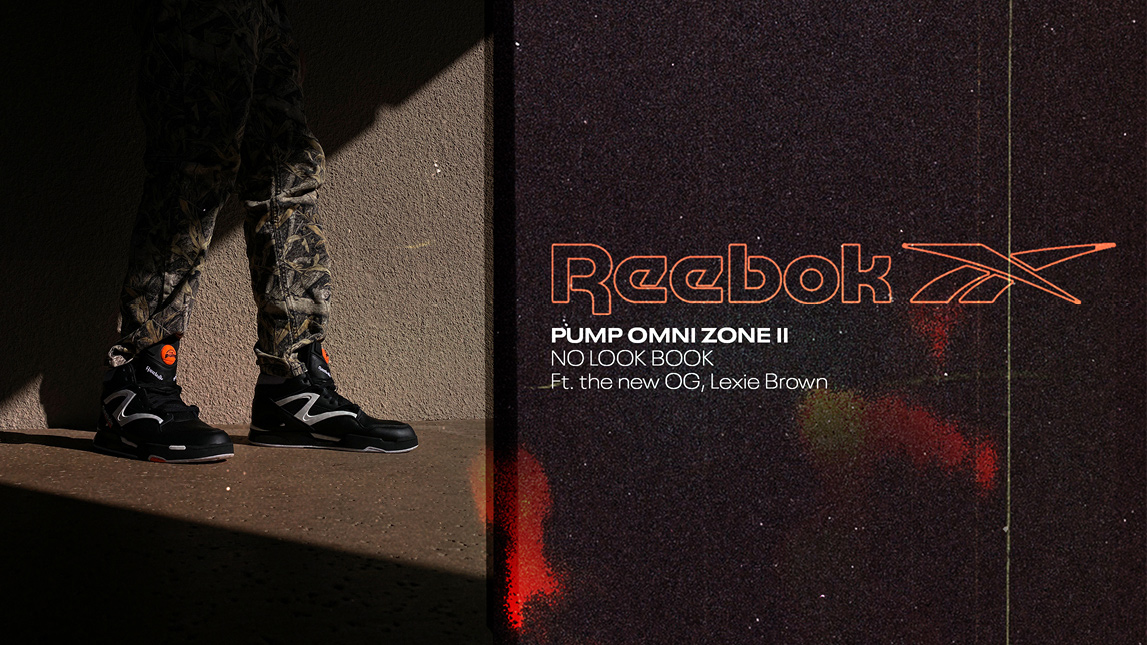 THE YEAR IS 1991.
THE DUNK CONTEST TITLE IS STILL ANYONE'S GAME.
DEE BROWN STEPS ONTO THE COURT.
HE SIZES UP THE RIM, BALL IN HAND, WITH ATTENTION FROM FANS ALL OVER THE WORLD.
HE SETS THE BALL ON THE FLOOR. WITH TWO HANDS HE PRIMES THE PUMPS ON HIS PUMP OMNI ZONE II SNEAKERS, REVOLUTIONARILY LOCKING IN A CUSTOM FIT FOR TAKEOFF.
EACH TIME HE APPROACHES THE NET, HE—AND THE UNPRECEDENTED PUMP TECHNOLOGY— BECOME EVEN MORE OF A PHENOMENON.
ON THE SEVENTH TRY, HE LAUNCHES INTO THE AIR, EYES COVERED BY HIS FOREARM.
BROWN CASUALLY JAMS THE BALL THROUGH THE BASKET, NAILING THE ICONIC NO-LOOK DUNK.  
AND THE REST IS HISTORY.
🏀 🏀 🏀
Last month Reebok reached out to us to help celebrate the launch of Pump Omni Zone II, 30 years on from this iconic moment. They asked us to create a digital look book using WNBA player Lexie Brown (Dee Brown's daughter) that could support PR and tell the younger digital consumer the history around Dee Brown's iconic no-look dunk (without actually being allowed to tell the story due to legal reasons SHOCK).
The challenges of lockdown have led to creatives experimenting with virtual photography, with #facetimeshoots becoming a huge trend among celebs and brands. To create our "No Look Book", we thought we'd give this new trend a go ourselves.
We opted for a more candid approach making sure the models never look down the camera lens. Through collaborating with a Leeds based photographer who has mastered the art of the #homeshoot, we were able to shoot Lexie living in Florida and model Gabe residing in Phoenix using their iPhones - all from the comfort of our own home!
This allowed us to be extremely flexible working around Lexie's strict training schedule whilst also battling with shipping delays, apparel going missing, weather conditions and last-minute shoot location changes.
Check out the The No Look Book
The client was absolutely buzzing with the quality that we were able to produce using an iPhone and our flexibility throughout the campaign, sharing the feedback below:
"This is absolutely perfect, we love the execution here and thank you everyone for your work on this."
The Pump Omni Zone II release sold out in hours.