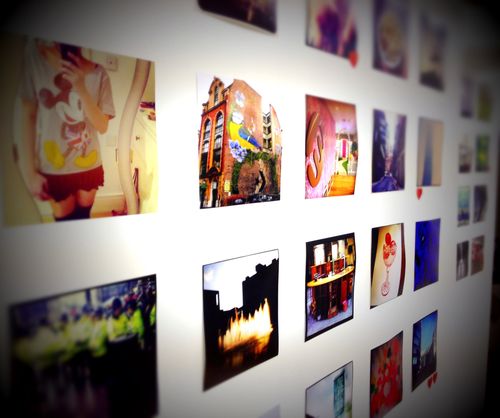 'ONE OFF' LEAP DAY INSPIRES NEW SOCIAL MEDIA LED ART EXHIBITION.
To celebrate the 'one off' leap year day on Wednesday, four Manchester instagrammers (Kate Towey, James G Brown, Gina Hewitt and Fiona McGarva) organised a social media led collaborative art project to create 'One Off': a photography exhibition in Northern Quarter gift shop Incognito's gallery space, an old bank vault.
[divider top_link="false" autosize="true"]
The 'People's Choice' Vault – photo by instruct.
Entrants were asked to simply take a photo using the hugely popular iPhone photography app, instagram on the theme 'One Off' and tag it using the corresponding hashtag.  All submitted photos were displayed with the most popular 18 photos being framed and entered into the 'people's choice' competition with the winner decided by those who attended. Checking the tag now, there were almost 350 submitted photos.
[divider top_link="false" autosize="true"]
I submitted a couple of images, with one being lucky enough to be selected for the 'people's choice' award and being framed and displayed with 17 selected others inside the old vault. Unfortunately I didn't win, but I think 13 votes was quite respectable (which put me in about 5th place, not that I was counting or anything!)
[divider top_link="false" autosize="true"]
My submission - bentopliss
The exhibition will run until to March 14th, so if you're in the area its well worth having a look or feel free to follow me on instagram (@bentopliss).
The winning entry – photo by marklloyd68
Incognito, 5 Stevenson Square, M1 1DN. 0161 228 7999
Opening hours Mon - Sat 10am - 5.30pm, Sun 12pm - 4pmIncognito / @Incognito_UK
http://www.instameetmcr.co.uk/
http://web.stagram.com/tag/oneoff/
http://web.stagram.com/n/bentopliss/